Surprise! Bonus Imperial Hammer story!
So this thing happened….
I wrote a story in my spare time.
I don't get a lot of spare time, so I suppose it's even more pathetic that I use my spare time to do more of what I do all the time, but there you go.
If you're a fan of the Imperial Hammer series and especially of Varg (and I know there are a few of you out there who love the parawolf!), then you'll like this story.
I've actually want to write the story for a while.  It was a gap in the chronology, and I've had one or two reviews wonder where Varg came from, when she appears in book 2 (Star Forge).
Well, here you go, then.
First, the cover, which I really like: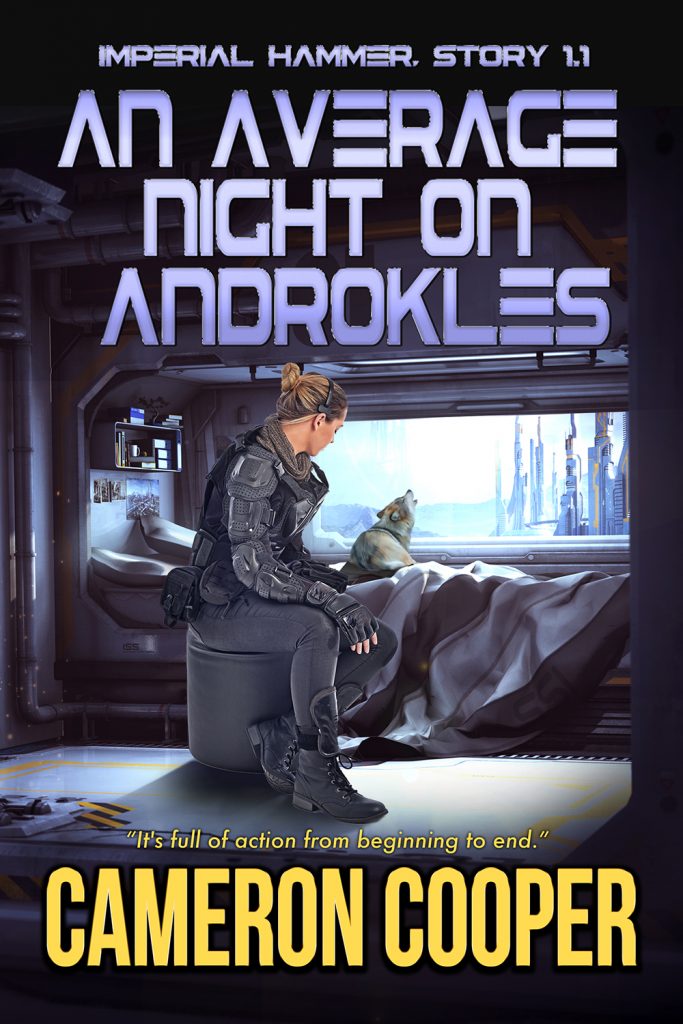 All Danny wants is an average night…
What starts out as an undisclosed job hunt turns into an interesting dinner date, but even that gets hijacked by a visit from an enemy Danny didn't know she had.
Worse, the enemy has snatched Dalton and wants Danny in exchange, which leads Danny into an evening of surprises and a new companion…
An Average Night on Androkles is a short story in the Imperial Hammer space opera science fiction series by award-winning SF author Cameron Cooper.
The Imperial Hammer series:
1.0: Hammer and Crucible
1.1: An Average Night on Androkles
2.0: Star Forge
3.0: Long Live the Emperor
4.0: Severed
5.0: Destroyer of Worlds
Space Opera Science Fiction Short Story
__
Praise for the Imperial Hammer series:
I love sci-fi and this story makes me love it even more.
I am in awe of the writing ability and imagination of Cameron Cooper.
Before reading any of this author's work, I would have stated I did not really like science fiction. THAT has changed.
It's full of action from beginning to end.
Brilliant and intricate.
Many memorable characters – but my favorite is Varg.
Twists and turns so you're never really sure what is going on behind the scenes.
 I am so enthralled with the series that I am impatient for the release of the next book.
 Cameron somehow describes scenes in ways that make me feel like I am actually present
 This story truly does justice to the legacies of the greats, like Orson Scott Card and Frank Herbert.
 Edge of your seat action will keep you captivated until the final page!!
__
Even better, the story is officially released next week, so you don't have to wait for it very long at all.
An Average Night on Androkles is available for pre-order now.  And don't forget, if you buy directly from me through the Stories Rule Press site, you earn points toward your next purchase.
The story will also be available in print – yes, one of those skinny little books that look quite enticing on the table.
Print and ebook are available at all retailers and will be released next Thursday.
Enjoy!