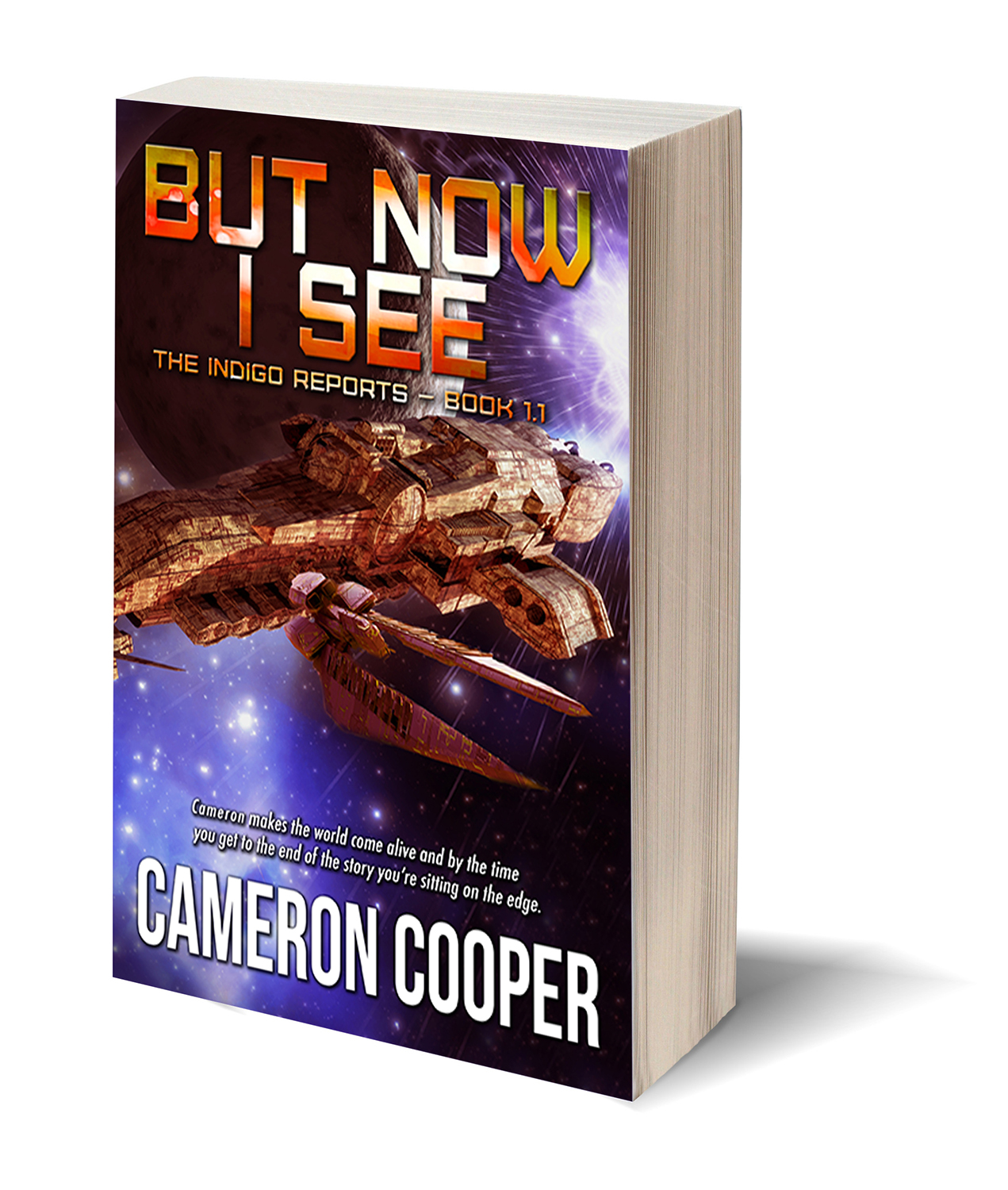 Click here to read an excerpt
Excitement PLUS! – we are immediately drawn into a high drama situation with some very interesting characters.
It's wonderful to read the conclusion of this little story: the great importance of the family for all humans, whether they live on Earth or in another dimension.
This is a fast paced short story which sets the stage for Bellona's future exploits. Definitely worth the read. This is a great series.
A lethal cat and mouse game.
To pay off a long-standing debt, Tatiana Wang, captain of the freeship Hathaway, takes aboard a politically high-risk passenger. When the Hathaway is caught by the Karassian military's flagship, led by the biocomp captain Yishmeray, "high risk" becomes "deadly."
The But Now I See novelette is part of the Indigo Reports space opera series by award-winning SF author Cameron Cooper.
The Indigo Reports series:
0.5 Flying Blind
1.0 New Star Rising
1.1 But Now I See
2.0 Suns Eclipsed
3.0 Worlds Beyond
Space Opera Science Fiction Story
---
Reviews
But Now I See
Average rating:
6 reviews
Dec 1, 2019
Fast Pace & Enjoyable Short Story Worth the read!
A great addition to the series. I loved stories that build on and reveal more about characters I already have gotten to know in a story and like. Great world-building. Characters you can dig into making a strong sci-fi tale that is exciting and enjoyable.

I received a free ARC copy of this book and am voluntarily leaving a review.
Nov 14, 2019
Super Tense Story
This story is super tense, with unexpected and explosive action. It plays out onboard the Hathaway and the plot has some twists and turns you won't believe! Super sad and explains a lot of questions about Bellona. Well done on a super tale!
Nov 11, 2019
Excellent!
Hard hitting, exciting short story/novella. Gut wrenching. I wish it had been longer.
Nov 10, 2019
Short but packs a punch!
Cameron's writing hits home every time! I felt the whole story like I was a part of it. Felt the different emotions from Bellona and Max's parting to the final words.So powerful!
Nov 10, 2019
But Now I See
This series keeps getting better. Just who are these characters and what is their end game. Not many authors are writing great science fiction like this anymore so if you love Asimov or Clarke, you will love Cameron Cooper. Make sure that you have plenty of time when you start this book because you won't want to put it down.
Oct 30, 2019
A very powerful message within
Cooper delivers an excellent short story in "But Now I See".

Again, the author packs in an immense amount of world building and character development within the confines of a short story.

Don't believe the naysayers scoffing and declaring that the short story is dead. Cooper and others like her prove time and time again that it is not.

While I enjoyed the story, despite some sad elements, on it's own, the extremely powerful message that I took away from the story is as true now as when humans began and will remain so until time ends.
I highly recommend this story.