Do You Like Hardcover Books? Want Some Of Mine?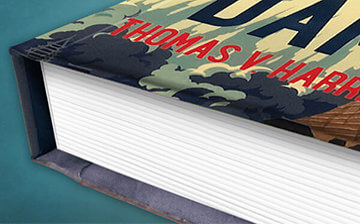 I have an opportunity to make case hardcover editions of my books available.  Which sounds fantastic…if you like hardcovers!
There's an image of a case hardcover book, above.  They're the hardcovers that have the cover image printed right onto them, instead of onto a loose cover wrap (and I *hate* those!).
Of course, the hardcovers are slightly more expensive than the trade paperbacks I currently publish.
(And if you didn't know I publish print editions, you can find links to each print edition at the bottom of the buy buttons on every book's page on my site–or on Amazon.)
There's also a cost for me to set the hardcovers up, so I thought I would ask you:
Would you be interested in acquiring hardcover copies of my books?
Which books or series would you buy first?
Hit reply and let me know your preferences.  I'll collate your responses and figure out which books and series I should put into hardcover first.  Or none at all!