As I mentioned a few weeks ago, I can't believe that I have four series out–enough to build a sample series starter boxed set….
There's quite a range in this set.  If you've only read one series of mine, this is a great way to check out the rest.
The Space Opera Firsts boxed set was released this morning.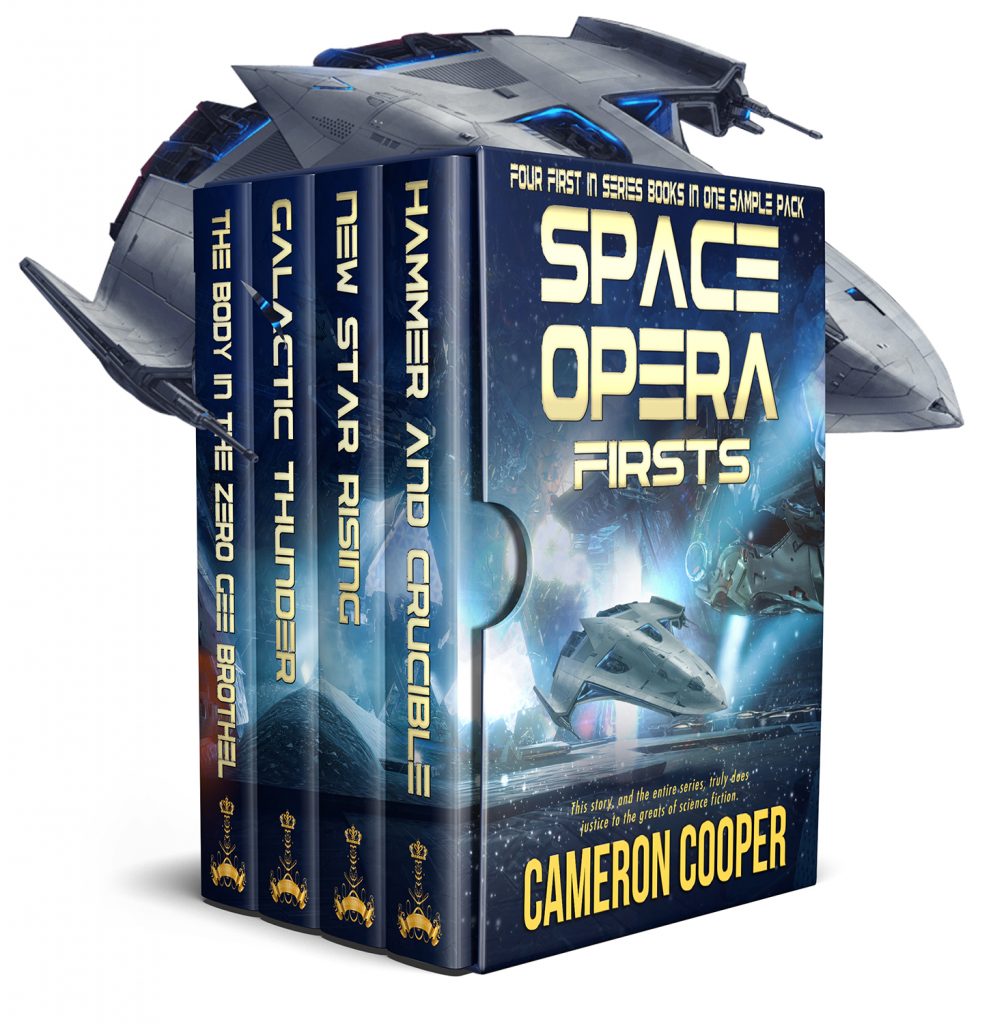 Four First in Series Books in One Sample Pack
Savings of over 50% compared to buying separately!
Here is the perfect chance to dip into four of Cameron Cooper's space opera series–the first stories in each series, in one set.
Hammer and Crucible
The interstellar array which links worlds together wakes to find it has enemies…
Danny Andela, once known as The Imperial Hammer, withdrew from the Imperial Rangers decades ago, her reputation in tatters. She lives on her family's star barge, waiting to die of a rare disease: old age.  Then Danny learns that the military disaster which essentially ended her life might possibly have been arranged by the Emperor himself…
New Star Rising
Be careful what you ask an android to do…
Bellona Cardenas Scordina de Deluca, daughter of the primary Cardenas family, went missing ten years ago. Reynard Cardenas, Bellona's father and head of the family, receives anonymous, unsubstantiated news that she has been found. He sends the most disposable person in the family to investigate—Sang, the family android. Sang's investigation trips off chain reactions which shift the generations-old lukewarm war between Erium and Karassia into a galaxy-wide conflagration…
Galactic Thunder
Danny and her crew learn that humans may not be alone in the galaxy.
When the wildcat ship Ige Ibas goes dark and silent, Dalton comes to Danny for help. But the Ige Ibas has gone dark for a reason, and Danny's investigation rouses the ire of a new enemy, one that emerges from beyond any worlds known to humans…
The Body in the Zero Gee Brothel
Meet Ptolemy Jovan Lane, a unique peacemaker.
Laws are hard to hold, out in the fringes of known space, but Ptolemy Lane is charged with maintaining peace under the dome of Georgina's Town. When a body is discovered in the local casino's brothel, Lane is reluctant to get involved. Only, the body is the casino's owner, Guisy Oakmint, and Doc Lowry is insisting Lane investigate.  Lane soon learns why…
Space Opera Science Fiction Boxed Set
Enjoy!