TL:DR note: Severed is out today. Scroll down for details if you're short on time. Read on to find out why this book has surprised me.
You know those writers with runaway best sellers who, in interviews, talk about how they worked themselves to the second knuckles, pouring all their heart and sole into this baby of theirs?
While I'm sure there is a small percentage of writers who aren't exaggerating, I think there's a larger percentage of authors who are genuinely flummoxed by the success of the book, but feel they must somehow make it seem as though they've put in the work to deserve the success.
That's because it's happened to me. Just on a much smaller, no, let's say micro-scale. And it's happened more than once.
Under one of my other pen names, the series that sells the most books is the one that I like the least. Doesn't mean I don't like it. It's just last on my favourites list, even though I can always find the core of each book's story interesting enough to write.
The books of mine that sell well, that get the most enthusiastic reviews are always the books I think have minor flaws (and every writer thinks all their books have flaws), or I feel is merely one of my "usual" standard of story, instead of being the one that fell out of me, that I wrote in a white hot heat of obsession and just love to pieces.
Ideally, an author should adore all her books equally. Just like parents are supposed to love all their kids equally. It just doesn't happen. We're not turning in sub-par books. We're just not hitting it out of the ball park every time. Sometimes, a clear run to first base is enough.
That's what I thought about Severed when I had finished writing it. The even-numbered books of any series are often difficult to write because they're usually also having to set up transitions for the next book.
It's like the second movie in a trilogy, or the second season in a TV series. The creators are setting things up for the last movie or the next season, or they misunderstand why the first was successful. The next installment (the third one), they self-correct and get it right. But the story after that (number 4) is usually a strange mix of pay-off for the last story, set-up for the next, while also trying to tell a story of its own.
Of course, as readers, you're unaware of all that structural hammering and sawing, but if you think about the satisfaction you get from each book in your favourite series, I just bet that the even number books are further down on the scale than the odd-numbered books.
Severed is number four and had the usual structural challenges. I was satisfied when I had finished it, and was a little surprised when my line editor said he really enjoyed the book.
I got on with the next book (there's always a next book), then Severed went out to the Street Team and barely forty-eight hours later, I got an email back from one of the Street Team members that was…well, squeally. They just had to let me know how much they loved the story, even before they got around to reviewing it in public.
I got a silly grin at that one, and got back to work.
A few days later I got a second email from a different Street Team member, who also wanted to tell me how fantastic they thought the story was.
At which point, I realized I might have one of these odd duck stories on my hands–the ones that are successful for reasons that entirely escape the author.
There's a danger in telling you this, of course. It might elevate your expectations for the book, so that when you read it, it's disappointing.
But I'm certainly not going to spin you a tale about wrestling the story onto the page, one blood drop at a time. That would just make me squirm. I did have to fight with the story because of the structural demands, but no more than usual. I was happy with the way it came out, but clearly, there might be something in the story that I've failed to take into account that makes it better than I thought.
Authors can never judge their own books objectively.
So you tell me. Severed came out today, and is now available at all retailers everywhere.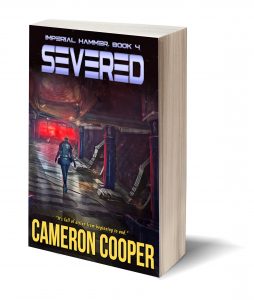 Danny has just barely averted the array's plans to dominate the Empire, and now must face the wrath of the Imperial Shield, and dodge a galaxy full of Imperial Rangers who want her dead.
Until now, she has had the help of her crew and the fabulous ship, The Supreme Lythion, to get her through any challenges, but the array quickly sends her crew and the ship to the four corners of the known worlds, and isolates Danny in the worst circumstances.
She is severed from all she knows, with nothing to her name and must fight back one painful step at a time…
Severed is the fourth book in the Imperial Hammer space opera science fiction series by award-winning SF author Cameron Cooper.
The Imperial Hammer series:
1.0: Hammer and Crucible
2.0: Star Forge
3.0: Long Live the Emperor
4.0: Severed
5.0: Destroyer of Worlds
Space Opera Science Fiction Novel
And don't forget that Hammer and Crucible, Book 1 of The Imperial Hammer series, is on sale for only $3.99 right now.
Enjoy,