Fun with old pulp-style covers — you can make your own, too
Another SF author, Michéle LaFramboise, who is also in the upcoming Space Opera Digest from Stories Rule Press (I'll give you more details about that another day), told me about the coolest site I've run across lately.
The Pulp-O-Mizer generates old pulp-style covers that you can customize with your own text, and make choices about headings and artwork to arrive at something unique.
I built a cover for Hammer and Crucible: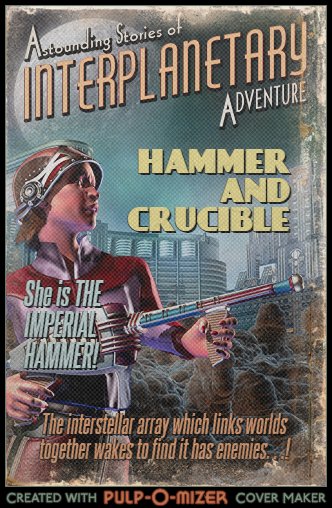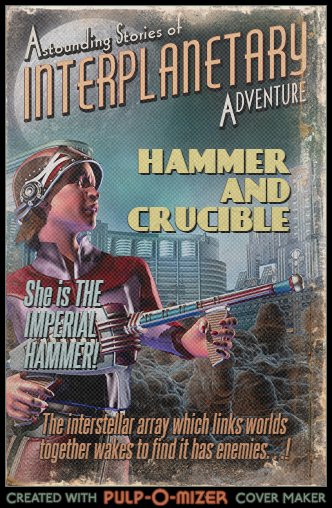 I just love the feel of this cover!  It's so fun and nostalgic.  Of course, I can't use it for anything but this blog and email, as the site is for non-commercial use.
You can also create square covers, which suit Facebook and other social networks, too.
Have fun with it!
And today, The Imperial Hammer Series Boxed Set is released everywhere, which includes Hammer and Crucible as the first book.

The full, best-selling Imperial Hammer series in one set.
Binge read the acclaimed space opera series featuring ex-Imperial Ranger Danny Andela and her friends and family, as they face a unique and deadly threat to the Empire, one that will tax their strength, drain their hearts and force them toward a bleak future…
Buy the whole series in this one set and save almost 50% on the cost of buying all of them individually!
It's full of action from beginning to end. – Reader review.
The Imperial Hammer series:
1.0: Hammer and Crucible
1.1: An Average Night on Androkles
2.0: Star Forge
3.0: Long Live the Emperor
4.0: Severed
5.0: Destroyer of Worlds
5.5: The Imperial Hammer Series Box Set
Space Opera Science Fiction Novel
Enjoy!